India's

Ancient

Spiritual

Traditional

India's Traditional/ Ancient weddings Traditions
Indian weddings are no less than a big occasion or a festival in every house of India. It is a grand festival celebrated with great enthusiasm by each and every member of the family, friends and distant relatives. Indian weddings style and rituals differ regionally.
Every religion has their own style of weddings wherein the bridegroom and
the bride are dressed according to their ritual and traditional attire.
---

Oldest and Unique
Facts About Indian weddings
In Indian History girls were married at a very young age but later on it was declared that child weddings is a criminal act and is punishable. As per Government rules a woman has to be above 18 years of age and a man has to be 21 years of age to get married legally as stated by the Prohibition of Child weddings Act. In 2009, about 7% of women got married before the age of 18. Arranged weddings have long been the norm in Indian society. Even today, the majority of Indians have their weddings planned by their parents and other respected family-members.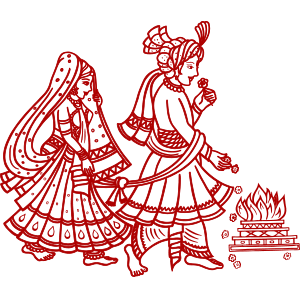 An ancient ritual "The Vivaha"
The Vivaha or Vivah is an ancient ritual, commonly known as weddings or wedding in English. Vivaha is a word that depicts a sacred union of two people to be soulmates for lifetime as per vedic traditions and rituals based on cosmic laws and advanced ancient practices.
In Hinduism beliefs, weddings is seen as one of the samskaras, wherein the wife and husband are bind together for lifetime with commitments and responsibilities towards one another.
Giving away of the bride: Kanya Daan
"Kanya" means a girl or the daughter and "Daan" means donation or giving away. KANYADAAN is an important part of a weddings ceremony in Hindu Religion. Bride's parents give away their daughter i.e., the bride to the Gods and then with the Gods as the witnesses, to the groom by entrusting her to the bride groom. The priest chants appropriate verses in Sanskrit during the entire rituals. The people in the audience (the public) are now notified that the parents have willingly expressed their wish and consent by requesting the groom to accept their daughter as his bride. As soon as the groom indicates his acceptance the bride's parents place their daughter's right hand into the bridegroom's right hand. The parents now bestow their blessings on both the bride and the groom and pray to the Lord to shower His choicest blessings on them.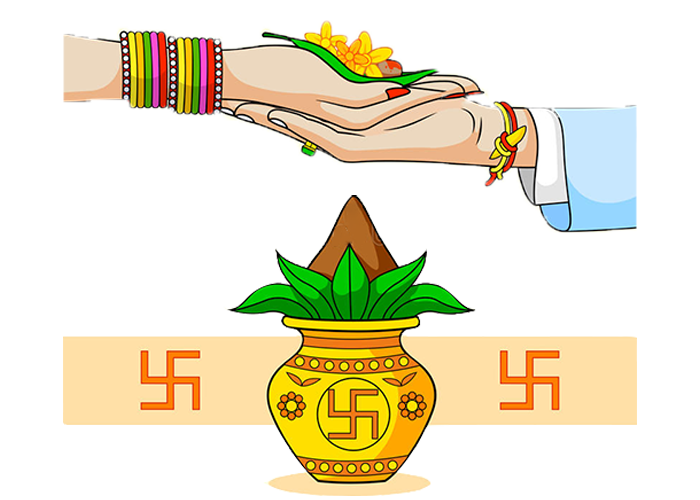 A learning path as unique as your kid ABC2India
Not convinced yet? Here are more reasons to choose Us
Learn About Dowry System in India
Historically the bride's parents used to give along some gifts, cash, gold and other properties to their daughter as a token of love during weddings. Later on the ritual was termed to be as dowry and the demand started from the bridegroom's side.
Groom's parents will give a list of things they want as dowry as a condition of the weddings. Dowry stemmed from India's skewed inheritance laws, and the Hindu Succession Act needed to be amended to stop the routine disinheritance of daughters. An anti-dowry act was introduced in 1961 to help prevent bride-burning and protect weddings of those who can't afford to pay such huge amounts asked as dowry. In some cases, the dowry system leads to crime against women, ranging from emotional abuse and injury to even deaths. The payment of dowry has long been prohibited under specific Indian laws including the Dowry Prohibition Act, 1961 and subsequently by Sections 304B and 498A of the Indian Penal Code.